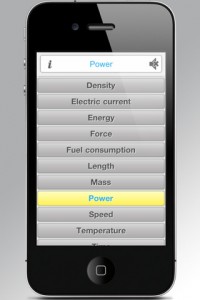 Jungle Units Converter is a brilliant application allowing to convert hundreds of measurements organized into 15 groups. We tried to make our program as user friendly as possible. And now anyone can use it immediately after installation without reading a line from the manual.
Main features:
very intuitive interface
possibility to choose out of 15 categories (angle, area, bits, density, electric current, energy, force, fuel consumption, length, mass, power, speed, temperature, time and volume)
possibility to quickly switch conversion direction (i.e. miles to km or km to miles)
Doesn't matter who you are. Almost certainly from time to time you face the necessity to make conversions. Jungle Units Converter will facilitate this process to the simple press of a couple of buttons. So if conversions is the only reason for you to carry a calculator, you can now leave it at home.
We promise to constantly improve Jungle Units Converter and guarantee that USD 1.99 you paid for our prog wouldn't be perceived by you as a waste of money. We take seriously all feedback from the users, so if you need some units of measure which are not in our converter, please write us and they will be added specially for you.
Download Jungle Units Converter
More screenshots: