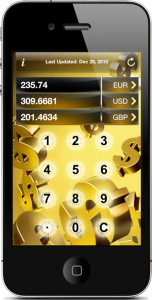 Jungle Currency Converter is a simple application which helps you to convert all major world currencies. The application offers a wide range of currencies and lets you easily convert them at any time you need.
Main features:
user friendly interface
159 types of currency, including the most widely used currencies (such as USD, EUR, GBP, etc.)
quick switch of conversion direction (i.e. USD to GBP or GBP to USD).
Jungle Currency Converter is just indispensible while traveling. If you happen to go to some foreign country, which currency you are not friendly with, there is no need to worry – Jungle Currency Converter is the right thing for you! With a couple of taps you'll be able to know how much money you can spend in another country paying for services or shopping.
Download Jungle Currency Converter
Currency rates are taken from FreeCurrencyRates.com.
More screenshots:
Currently supported currencies are: